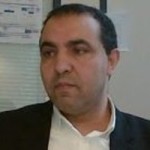 Mr. Azzeddine Ramrami
Azzeddine Ramrami is an information security developer, author, instructor and expert consultant with over a decade of experience in the security, secure coding, network and telecommunication arena. R. Azzeddine is a pioneer and founded Applied Security, an end-to-end information security management company, which serves over 300+ customers globally.
R. Azzeddine presently works as Professor, Instructor and Author/developer and is a senior Enterprise Security Architect consultant which works closely with law enforcement agencies, and security defense establishments to strengthen international cyber security programs.
Associations and Certifications : R. Azzeddine holds the CSWAE, CPEH, CPTE, CPTC and CEH certification and is not only a Mile2 Senior Instructor but is the author of the latest mile2's C)SWAE, C)PTE and C)PTC course and lab guide. Since 2008, R. Azzedine holds a chair position at OWASP in Morrocco and leads OWASP and mile2 certification expansion efforts in Canada, France and North Africa.
Talk about :
1. How to setup SIEM (Security Incident Event Management) using Bigdata and the Cloud.
Threats in CyberSecurity and the Cloud
SIEM : overview
SIEM architecture and components
Why SIEM ?
SIEM setup using Bigdata
Protect the Cloud using SIEM*
2. Cloud Security Techniques and Frameworks
Introduction to Cloud Computing Architecture
Cloud Computing Reference Architecture Overview
Cloud Adoption Patterns
Cloud Service Models
Cloud Deplyment Models
Secure By Design
Application vulnerabilitues continue to dominate vulnerability disclosures statistics
Multi Tenacy issues in the Cloud
Cloud Computing Security Architecture
Cloud Computing Risks